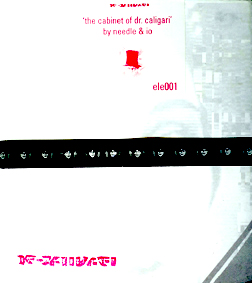 needle & io:
'the cabinet of dr. caligari'
ele001
needle, jeswa & otto von schirach:
'nosferatu'
ele002
2XCD debut release from the Elegua label presents new abstract electronic soundtracks to the silent film masterpieces in the 'Electronic Music & the Moving Image' series, conceived by
Needle
and featuring Io, Jeswa and Otto Von Schirach. these digital recordings are assembled from live performances, carefully crafted to sync with the action on screen, and packaged in a numbered edition of 1000. design in conjunction with
prjct13
.
2XCD and digital downloads available through our friends at
CDBaby
.
Links to great sites on these two classic silent films:

http://ingridrichter.org/caligari.html

http://www.silentera.com/PSFL/data/N/Nosferatu1922.html