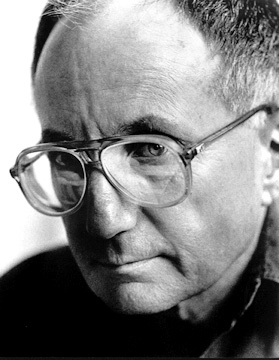 Jon Gibson visited Miami in 2000 to give a concert of his music at the Miami Beach Botanical Garden as part of Subtropics 12. The concert took place outdoors, in a dimly torch-lit area of the garden behind the greenhouse. It was an intimate concert, and people sat on chairs and blankets over the grass. The ambient sounds of the garden and those coming from the city blended nicely with the compositions performed that evening. Gibson's program included 'Stalling Into Elation', which is included on the 'Breath' cd. The recording was taken directly off the sound board.
'Stalling Into Elation'
The music for 'Stalling Into Elation' (1998) was composed for a dance project of the same name by choreographer Nina Winthrop for her company. The music consists of a collection of natural and manufactured sounds that are combined and overlaid in a variety of ways that create pre-recorded ambient "soundscape" environments in which the dance and other visual activity takes place. The recorded environments are then supplemented with live sound making activity, with soprano saxophone. The music for the live performance is built around composed thematic materials that are performed in a semi-improvised manner. This music can of course also be heard without any visual stimulus whatsoever.
Jon Gibson (b. Los Angeles, 1940) is a composer, woodwind instrumentalist and visual artist who has been active in new music since the 1960s. He has taken part in numerous landmark musical events, performing in the early works of Steve Reich (1963-'72), Terry Riley (1964-'66), and Philip Glass (1968-present), as well as performing with many other composers, including La Monte Young, Frederick Rzewski, Christian Wolff, Alvin Curran, Arthur Russell, Petr Kotik, Peter Zummo and Annea Lockwood, to a name a few.
His own music consists of a large body of solo and ensemble instrumental and vocal works that have been performed by himself and others throughout the world. His individual approach to composing and performing results in part from the influences of various western and non-western musics, jazz and improvisation styles, sounds from nature, and his long and important association with Minimalism and the post-modern aesthetic.
Gibson's composition 'Rainforest/Brazil' appears on the Thomas Buckner cd on Lovely Music entitled 'Full Spectrum Voice', and his composition 'Equal Distribution #1' appears on the Petr Kotik cd on EarRational Records entitled 'Virtuosity with Purpose'. Two earlier albums of his music, 'Visitations and Two Solo Pieces' appear on Chatham Square Records, As a performer, Gibson appears on recordings by Glass, Reich, Rzewski, Russell, Garrett List and Robert Ashley, among others.
Other activities include commissions to compose music for the dance companies of Merce Cunningham 'Fractions', Lucinda Childs 'Relative Calm', an evening-length work with decor by Robert Wilson, Margaret Jenkins 'Equal Time', Elaine Summers 'Solitary Geometry', an evening-length work featuring dancers Min Tanaka and Suzushi Hanayagi, Simone Forte 'To Be Continued', as well as work with dancers Nancy Topf and Elisabetta Vittoni. He recently completed a video animation entitled 'Interval', which combines audiovisual ideas of his into a single work and a collaboration with theater director JoAnne Akalaitis on a music/theater work centered around Charles Darwin entitled 'Voyage Of The Beagle'.
Click to hear an excerpt from 'Stalling Into Elation' by Jon Gibson: