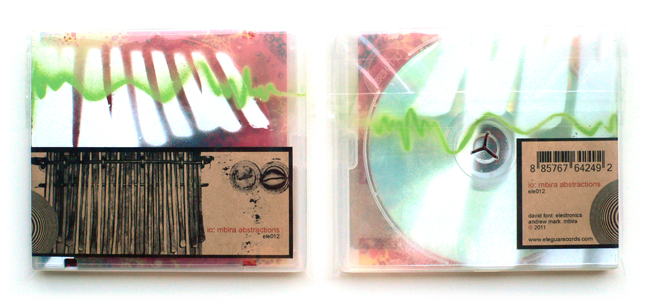 'io: mbira abstractions'
ele012
handmade limited edition CDR and digital downloads available through our friends at
Bandcamp
and
CDBaby
.
'io: mbira abstractions' teleports an African traditional, echo-logical knowledge to a hypnotic, kaleidophonic cosmos full of resonant bodies: laser sharp and fuzzy, echoes and re-echoes, spaces and vacuums.
the archetype repertoire of the mbira dza vadzimu reaches back over seven centuries and beyond into the very fibers at the origin of our species. in the performance and recording process, multiple interlocking kushaura (lead) and kutsinhira (follow) parts form the kernels and inspiration of each segment. the sounds and patterns layer, proceed, loop, fracture, and recombine—a musical analog of squinting at a picture or cubist attempts to add a third (depth) and fourth (time) dimensions to two-dimensional paintings. the digital abstraction and transformation of mbira is not so radical: traditional mbira music is
already
dense, swirling, amalgamating, and multi-dimensional.
the album is a collaboration between David Font and Andrew Mark, who plays all of the mbira parts on the album and constructed several of the instruments himself. The two multi-instrumentalists met during graduate studies in ethnomusicology at Toronto's York University. (
Jon Hassell
, the Graceful Architect of Fourth World Music, recorded his landmark album "Vernal Equinox" at York in 1976.) if ethnomusicology is a scientific approach to the world's musical cultures, 'io: mbira abstractions' is musical science fiction.
the project began with a performance at Toronto's venerable
Ambient PiNG
on January 28, 2009. (thanks to
General Chaos Visuals
for the beautiful projections!) all of the shortwave and FM radio transmissions on the album were recorded during that evening's set. in several instances reminiscent of
William Burroughs
's "Cut-Ups," live radio transmissions included spoken phrases that evoked Zimbabwe's current humanitarian crisis and random instrumental music phrases that were in time and in tune with Andrew's mbira playing.
in an article on mbira music for
Music Theory Online
,
Martin Scherzinger
writes, "The reappearance of things in curious and unexpected places in the music can impress upon close listeners an experience of phantom musical logic—a sound of (seemingly) grasped character and origin suddenly propelled elsewhere into the music, as if by an unknown force [...] Metamorphosis facilitates a listening experience that grows beyond the dimensions of the tactile performance alone, touching instead upon something unguessed at." this phenomenon was described as "kaleidophonic" in a 1970 article by
Andrew Tracy
("The Matepe Mbira Music of Rhodesia").
half of the profits from this release benefit the
Kufunda Learning Village
outside Harare, Zimbabwe. to learn more about Kufunda, visit their website:
www.kufunda.org
.